"Wolferton Splash" is the premiere episode of Season 1 of Netflix television series The Crown.
Synopsis
A young Princess Elizabeth marries Prince Phillip. As King George VI's health worsens, Winston Churchill is elected prime minister for the second time.
Episode Notes
Historical Events
Time Period: 1947 - December, 1951
Princess Elizabeth's Wedding
Princess Elizabeth and Philip, Duke of Edinburgh were married on November 20, 1947 in Westminister Abbey. The service was officiated by Geoffrey Fisher, the Archbishop of Canterbury and Cyrill Garbett, the Archbishop of York, the two highest-ranking bishops in the Church of England. She was 21 and he was 26 when they married.
Princess Elizabeth arrived for her wedding in the Irish State Coach, one of four enclosed coaches used by the royal family, and was escorted by her father, King George VI.
Princess Elizabeth's gown was designed by Norman Hartnell, and made of satin that required ration coupons to purchase. She wore the Queen Mary's Fringe Tiara, which broke just before the wedding, and was hastily repaired by Garrard, the Crown Jewellers.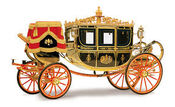 Both the King and Philip wore their naval uniforms, as is the custom with the royal family for formal occasions.
Princess Elizabeth had eight bridesmaids including her sister and several cousins; the adolescent Princes Michael of Kent and William of Gloucester, also her cousins, were her page boys. Philip's best man was the Marquess of Milford Haven, his first cousin, who is not seen in the series.
Before the wedding, Philip, then Prince Philip of Greece and Denmark, renounced his titles and citizenship, and became a British citizen, taking the name Lieutenant Philip Mountbatten. He also converted from the Greek Orthodox Church to the Church of England. The morning of the wedding, he was made up Duke of Edinburgh, Earl of Merioneth, and Baron Greenwich of Greenwich, and given the style "His Royal Highness".
Upon their marriage, Princess Elizabeth took the title Duchess of Edinburgh. The couple honeymooned at Broadlands, the home of Philip's uncle, Lord Louis Mountbatten before departing for Malta.
King George's Surgery
King George VI was a heavy smoker, as was his mother, Queen Mary. Little was known about the carcinogenic properties of cigarettes at the time, and many men of the King's generation began smoking at a young age, having no idea of the risks to their health, or how addictive smoking was. King George's lung was removed, but his lung cancer is hidden from him and the family.
Soundtrack
Trivia
In the scene where Cecil Beaton takes the wedding photographs, Prince Philip's mother is seen wearing a nun's habit. In actuality; she wore the habit to the Queen's coronation but dressed in appropriate formal dress for the wedding.
Gallery
Episode Guide
References