Sir Winston Churchill KG OM CH TD PC DL FRS RA is played by actor John Lithgow. Winston Churchill served as the Prime Minster of the United Kingdom from 1940 - 1945 under King George VI, then again from 1951 - 1955 under Queen Elizabeth II.
Life
Winston Leonard Spencer-Churchill was born into two aristocratic families on November 30 1874 at Blenheim Palace in Woodstock, Oxfordshire, United Kingdom. As a member of the Churchill family, he is related to the Dukes of Marlborough, and as a member of the Spencer family, to the Earls Spencer; the current earl is the elder brother of the late Diana, Princess of Wales.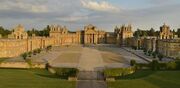 His father, Lord Randolph Churchill, was a Tory politician, and his mother, Jennie Jerome, was an American "buccaneer", one of the first wealthy American heiresses to marry into aristocratic, but impoverished British families in the late 1800s, making him (technically) an American citizen as well. Churchill was also the nephew of the 7th Duke of Marlborough, his father's elder brother.
Churchill's Honors
It is customary that high-ranking and aristocratic British citizens will include in their names abbreviations indicating honors earned. Churchill's honors include:
KG: Most Noble Order of the Garter
OM: Order of Merit (Ordre du Mérite, France)
CH: Order of the Companions of Honour
TD: Territorial Decoration
PC: Her Majesty's Most Honourable Privy Council
DL: Deputy Lieutenant
FRS: Fellowship of the Royal Society
RA: Member of the Royal Academy of Arts, earned for his accomplishments as a painter
Appearances
Season Two appearances
Misadventure
A Company of Men
Lisbon
Beryl
Marionettes
Vergangenheit
Matrimonium
Dear Mrs. Kennedy
Paterfamilias
Mystery Man
Season Three appearances
Olding
Margaretology
Aberfan
Bubbikins
Coup
Tywysog Cymru
Moondust
Dangling Man
Imbroglio
Cri de Coeur
Community content is available under
CC-BY-SA
unless otherwise noted.