"
Uneasy lies the head that wears a crown
"

— Henry IV, Part 2
The Queen is a motion picture written by Peter Morgan, directed by Stephen Frears and starring Helen Mirren as Queen Elizabeth II. The film is set in the late summer of 1997, and explores the days following the death of Diana, Princess of Wales, particularly its effect on Queen Elizabeth, the Royal Family and Prime Minister Tony Blair (Michael Sheen).
The film also follows the populist Tony Blair's early months in office, and the development of his working relationship with the initially mistrustful Queen. The majority of the action takes place between the evening of Diana's death on August 31, 1997 and the morning of her funeral.
Like The Crown and The Audience, The Queen is less a traditional biography of Queen Elizabeth herself than a study of how events shape her interactions with the people around her, notably her complex relationships with her Prime Minister of the day.
Cast
Helen Mirren as Queen Elizabeth II
Michael Sheen as Prime Minister Tony Blair
James Cromwell as Prince Philip
Helen McCrory as Cherie Blair
Alex Jennings as Prince Charles
Sylvia Sims as Elizabeth, the Queen Mother
Roger Allum as Robin Janvrin, the Queen's private secretary
Mark Bazeley as Alastair Campbell
Tim McMullan as Stephen Lamport, Prince Charles's private secretary
Douglas Reith as Lord Airlie, the Lord Chamberlain
Jake Taylor Shantos as Prince William
Dash Barber as Prince Harry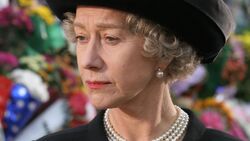 Although Diana, Princess of Wales is seen only in archival news footage, she is a major character, whose death and transformation into the "People's Princess" drives much of the film's action. The film contrasts dramatization of major events with actual news reporting and footage of the period's events, including Diana's 1995 BBC Panorama interview and news coverage her funeral. Footage also featured her brother, Charles, Earl Spencer.
Awards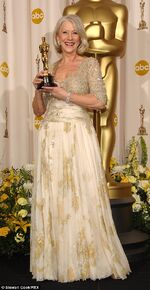 The Queen and Helen Mirren received awards and nominations for most major film awards during the 2006 awards season. Among the major awards earned were:
Helen Mirren
Best Actress, 79th Academy Awards (2006)
Best Actress (Drama), 64th Golden Globes (2006)
Best Actress, 2006 British Academy of Film and Television Arts (BAFTA) Awards
Outstanding Performance by a Female Actor in a Leading Role, 2006 Screen Actor's Guild Awards
Mirren was also awarded Best Actress by the Los Angeles and New York Film Critics, as well as by numerous other critic's groups.
The Film