Season 3 of Netflix series The Crown is in production. No release date has been set, but the season is expected to premiere in 2019.[1] This season will explore the middle years of the Queen's reign, and will feature a new cast playing the Royal Family, featuring Olivia Colman as Queen Elizabeth II. Unlike the end of Season 1 and the beginning of Season 2, there will be a time jump between the end of Season 2 and the beginning of this season.
Season 3 will cover the mid 1960s into the early 1970s, including the break-up of Princess Margaret's marriage, the young adulthood of Prince Charles and Princess Anne, and Harold Wilson's two terms as Prime Minister.[2]
Cast
The Royal Family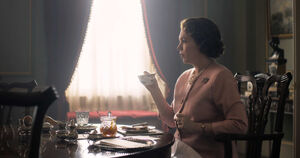 The confirmed cast for Season 3 and 4 thus far includes:
Government
Notes
This season will cover the two terms of Labour Prime Minister Harold Wilson. Wilson's first term ran from 16 October 1964 – 19 June 1970; following the Labour Party defeat in 1970, he served as Leader of the Opposition until 4 March 1974, when a Labour Party victory restored him to the role of Prime Minister. His second term ran from 4 March 1974 – 5 April 1976, when he resigned and was succeeded by James Callaghan.
A young Camilla Shand (later Camilla Parker-Bowles) will be introduced this season. Lady Diana Spencer will not appear until Season 4.[4]
Episodes
#
Image
Title
Writer(s)
Director
301
301
Peter Morgan
302
302
Peter Morgan
303
303
Peter Morgan
304
304
Peter Morgan
305
305
Peter Morgan
306
306
Peter Morgan
307
307
Peter Morgan
308
308
Peter Morgan
309
309
Peter Morgan
310
310
Peter Morgan
Gallery
Notes and references