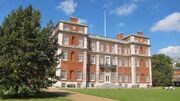 Marlborough House is one of a group of royal residences located in central London. It was built for Sarah Churchill in 1711, when she became Mistress of the Robes for Queen Anne. Sarah's husband, John, was made Duke of Marlborough, and Marlborough House was Sarah's London residence. Although the Duke and Duchess would eventually build Blenheim Palace, near Oxford, Sarah's favorite residence was Marlborough House. Sarah was a woman of considerable influence, and her husband, a general in the army, was generally was away at battle; the house formed a base from which she could be close to the Queen, who was her good friend.
After Sarah's death, the house remained the London residence of the Dukes of Marlborough for the next hundred years. It became a royal residence in 1817, and became the residence of a number of royal family members, notably several dowager queens. The house was enlarged by Sir James Pennethorne, who was also responsible for renovations to Buckingham Palace, from 1981-1863.
Marlborough House became the residence of Queen Mary following her husband's death in 1936. She lived in the house for the next 17 years, until her death in 1953. During her tenure, she added a small summer house, and maintained an extensive pet cemetary which remains in the garden.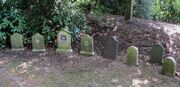 The house continued to be occupied by members of the royal family until the 1980s, when it was leased to the Commonwealth Secretariat, which still maintains offices there.
The Spencer-Churchill Connection
Sarah, Duchess of Marlborough was a member of the Churchill and Spencer families. Among the other members of the family are Sir Winston Churchill, who was born in Blenheim Palace, and Diana, Princess of Wales. Both are direct descendants of the first Duke, as is the current Earl Spencer, Diana's elder brother. The family also included two American "Buccaneer" heiresses who married into the family: Jenny Jerome, Lady Randolph Churchill, Winston Churchill's mother, the wife of the third son of the 7th Duke of Marlborough, and Consuelo Vanderbilt, the wife the 9th Duke, who was Winston Churchill's first cousin. Her unhappy marriage became the inspiration for the Edith Wharton novel, "The Buccaneers".
Community content is available under
CC-BY-SA
unless otherwise noted.