Synopsis
After Elizabeth makes a tone-deaf speech at a Jaguar factory, she and the monarchy come under public attack from an outspoken lord.[1]
Episode Notes
Historical Events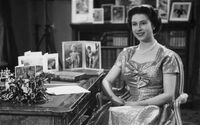 The practice of royal Christmas addresses began with the Queen's grandfather, King George V, who made his first address, written by Rudyard Kipling, over the radio in 1932. The address has taken place every year since with the exception of 1936, when King Edward VIII abdicated only weeks earlier. The Queen's message is broadcast throughout the British Commonwealth, and in the U.S., is carried on BBC America on Christmas morning.
With televisions in the home becoming increasingly commonplace, the Queen made her first televised Christmas address in 1957, a practice that continues to this day. Her first televised address was on the 25th anniversary of the Royal Christmas address; the text of the 1957 royal address is available on the Royal Family's website. On December 25, 2017, the Queen, in her annual Christmas message, recognized the 60th anniversary of this address, while marveling at the change in technology, much as she did sixty years earlier.
The Queen's garden parties, and debutante balls.
Historical Figures
John, Lord Altrincham (pronounced Altringham), born John Grigg, was a journalist and the final editor of the National and English Review.
"Baboon", Margaret's hair stylist was cutting-edge stylist Vidal Sassoon. Sassoon opened his first salon in London in 1954, where he developed new, simpler and easier care hair that emphasized cut over elaborate styling. By the 1960s his geometric hair cuts were part of a new wave of British fashion that included styles by designers such as Rudi Gernreich and make-up by Mary Quant. He later rose to prominence in the U.S. when he created haircuts for well-known American women, notably Mia Farrow's short haircut for Rosemary's Baby in 1968 and Dorothy Hammil's bob for the 1976 Olympics. By the 1970s he had settled in Los Angeles, marketed a line of styling products and was considered the most famous hair stylist in the world.
Historical Notes
National Review
League of Empire Loyalists
Deer stalking
Christmas address v. address following Diana's death
Use of Ardverikie House as Balmoral
Trivia
Frequently seen in "The Crown" are two state rooms separated by double doors. Rather than building sets, the production used two rooms at Wilton House, in Salisbury, known as the "Cube" and "Double Cube" rooms.
Gallery
References