Hyde Park Corner is the second episode of Season 1 of Netflix television series The Crown.
Synopsis
With King George too ill to travel, Elizabeth and Phillip embark on a four-continent Commonwealth tour. Party leaders attempt to undermine Churchill.
Episode Notes
Historical Events
George VI died of lung cancer on February 6, 1952. As shown in the episode, the new Queen was in Kenya, and was told by Philip, after Martin Charteris located them.
The scene in which Martin Charteris asked the Queen to select her regnal name is accurate; she was reported to have simply said, "Elizabeth, of course."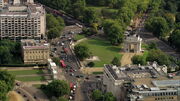 Historical Notes
Hyde Park Corner is a busy intersection and traffic island located between the rear of Buckingham Palace and Hyde Park. It features the Wellington Arch, one part of Green Park situated across Constitution Hill from Buckingham Palace, but now isolated on a traffic island. Beyond Hyde Park Corner from the Palace is the formal entrance to Hyde Park and Apsley House (aka Number One, London), the former home of the Duke of Wellington.
In the episode, "Hyde Park Corner" was the Palace code phrase for the death of King George VI. These code phrases allow the Royal Household to discuss some private matters without the risk of leaks to the press.
The episode shows Tommy Lascelles and his aides bringing the new Queen Elizabeth a full set of mourning clothes. In actuality, the Princess's dresser had already prepared for the possibility that the King might die, and the needed clothing, with the exception of a pair of black gloves, was on the plane. Those were borrowed from the wife the private secretary of the Governor General of Kenya. This story only emerged when the lender's godson, actor Charles Collingwood, appeared on a 2012 episode of "Antiques Roadshow" with photographs of the Queen wearing the gloves.
Trivia
Gallery
References