Synopsis
Inspired by Jackie Kennedy and against her government's wishes, Elizabeth takes an unconventional approach to resolving an issue with Ghana.[1]
Episode Notes
Historical Events
June 5, 1961: Kennedy visit.
November 9 - 20, 1961: The Queen's visit to Ghana.
March 28, 1962: Jackie Kennedy visits Elizabeth at Buckingham palace.
November 22, 1963: JFK is assassinated. Please note that this is after the events of Paterfamilias take place and would have taken place in during the timespan of Mystery Man.
Historical Figures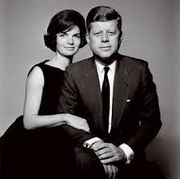 John F. Kennedy, Jr. was the 35th President of the United States at the time of his private visit to London on June 4 and 5, 1961. During his stay, he met with the Queen and Prime Minister Harold Macmillan. Kennedy returned to England in June 1963 to meet with Macmillan once more, five months before he was assassinated.
Jacqueline Bouvier Kennedy was the First Lady of the United States, who was known for her style and her work modernizing the White House. She was three years younger than the Queen.
Robert F. Kennedy was John's younger brother, close advisor and the Attorney General of the United States from January 1961 to September 1964.
Kwame Nkrumah was the president of Ghana following its independence in 1957.
Historical Notes
Trivia
Gallery
References
Community content is available under
CC-BY-SA
unless otherwise noted.