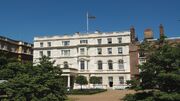 Clarence House is a royal residence located on the Mall in London, Borough of Westminister. It was the residence of The Princess Elizabeth and Philip, Duke of Edinburgh before their move to Buckingham Palace when she became Queen. Currently, it is occupied by Charles, Prince of Wales and his wife, Camilla, Duchess of Cornwall.
History
Clarence House was designed by John Nash and built between 1825 and 1827 for William, Duke of Clarence, later King William IV. When William became the sovereign, it was occupied by subsequent members of the Royal Family, until WWII. During WWII, the house was used as the headquarters for the St. John Ambulance Service and the Red Cross, and was damaged by bombing in 1942.
The Princess Elizabeth and the Duke of Edinburgh took up residence in 1949. In 1951, Philip oversaw extensive renovations of the house, including repairs to the war-time bomb damage. The family lived in the house until 1953, when they moved to the sovereign's official residence, Buckingham Palace.
Subsequent remodeling, including a recent renovation by Prince Charles have left little of Nash's original building, as the house was repaired, expanded and modernized. The current house is four stories, with a pale exterior, and shares a garden with St. James's Palace.
Residents
Clarence House has been the official residence of the Queen's immediate family members continuously since 1953. Residents include:
Queen Elizabeth, the Queen Mother (1953-2002, her death) Princess Margaret lived in Clarence House with her mother for a time, before moving to an apartment in Kensington Palace.
Prince Charles and Camilla, Duchess of Cornwall (2003 -)
Prince William (2003 - 2011)
Prince Harry (2003 - 2013)
Since their marriage, Prince William and Catherine, Duchess of Cambridge maintain their London residence in Kensington Palace, in the apartments once occupied by his mother, Diana, Princess of Wales, following her divorce. Prince Harry also made his home at Kensington Palace following his deployment to Afghanistan.